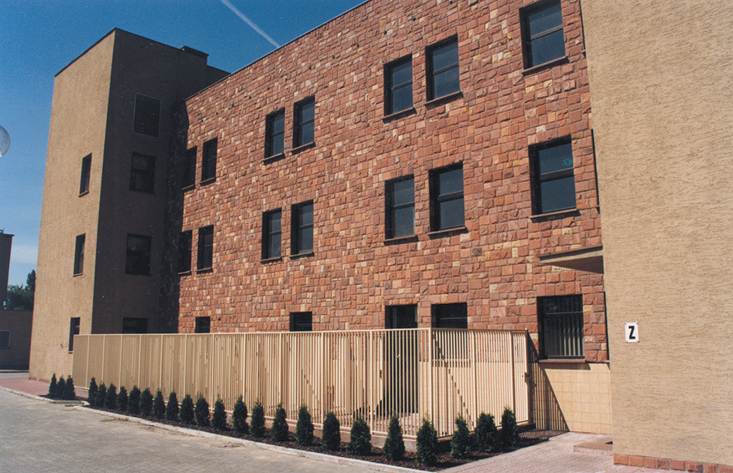 Animal House

Mossakowski Medical Research Institute Polish Academy of Sciences
5 A. Pawinskiego Str., 02-106 Warsaw, POLAND
phone: +48 22 668 55 43, 60 86 478, 60 86 472
This email address is being protected from spambots. You need JavaScript enabled to view it.
Head:
PhD Anna Kosson - phone: +48 22 60 86 435, 472
 This email address is being protected from spambots. You need JavaScript enabled to view it.
Employees:
Iwona Kalinowska

(+48) 22 60 86 478

 

Malgorzata Strus

(+48) 22 60 86 472

 

Teresa Figurska

(+48) 22 60 86 433

 

Krystyna Sekulak

(+48) 22 60 86 478,472

 

Marzena Kapica

 

Michał Malek

(+48) 22 60 86 436

 

Piotr Habel

(+48) 22 60 86 433

 

Stanislawa Taczala

(+48) 22 60 86 478

 

Iwona Kowalczyk-Jabłońska

(+48) 22 60 86 478

 

Izabela Morawska-Ciepiela

(+48) 22 60 86 498, 447

 

Zdzisław Sekulak

(+48) 22 60 86 478

 

Jan Grabuś

(+48) 22 60 86 478, 472

 

dr vet. Marlena Welniak-Kaminska

(+48) 22 60 86 431

 

This email address is being protected from spambots. You need JavaScript enabled to view it.

Agnieszka Puchalska

(+48) 22 60 86 478, 472

 
Registration in Polish register of laboratory animals - symbol of breeding: Cmd

Registered by District Veterinary Authorities No. 14313512

Permit from the Ministry of Environment for  GMO usage - licence 70/2011

Permit no 0007 from the Ministry of Science for the experimenting in animals
Characterisatics of the Unit:
The Animal House of  Mossakowski Medical Research Center of Polish Academy of Sciences was opened in 1997 and it is one of the most modern establishments of its kind in Europe. It is located on 3500 m2 in a separate three-storey building adjacent to the main building of the Center. Its breeding conditions make The Animal House a unique research laboratory. It is equipped with modern boot cleaning and hand disinfection sanitary station, pass-through autoclaves and air-conditioning system with 3-phase filter system, which enables SPF (Specific Pathogen Free) breeding standards in strictly controlled humidity and temperature of the interior.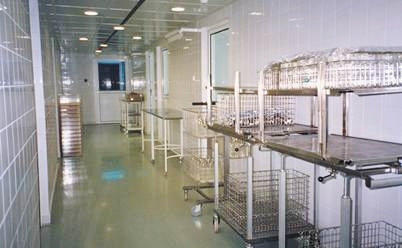 The Animal House is a closed-circuit system, which, in terms of breeding conditions, means that after quarantine and having been placed behind a sanitary barrier, the animals are separated from the external environment. Standardisation and optimisation of the environmental conditions comply with the Directive 2010/63/EU of the European Parliament and of the Council of 22 September 2010 on the protection of animals used for scientific purposes. The animals are kept in the temperature and humidity appropriate for their species. Water, animal food and any equipment used are all sterilized. Each barrier is equipped with pass-through autoclaves. The Animal House personnel are allowed in exclusively after going through a specialists sanitary station and after getting changed into sterile clothing. The standardization of breeding conditions, the upkeep of laboratory animals and their isolation from external influence aims at achieving reliable and reproducible research results. This is of high importance in breeding and upkeep of transgenic animals in particular. In the majority of cases they have lower immunity, which makes them susceptible to infections and the influence of environmental changes.
Currently, The Animal House of Mossakowski Medical Research Center of Polish Academy of Sciences constitutes Genetically-Modified Animal Breeding Center. Owing to ever-developing genetic engineering, new models of transgenic animals are being created. As models of human diseases, they provide the ground for the search of new treatment and improved diagnostic methods as well as new medical techniques which  involve innovative biotechnological methods.
The breeding offers:

genetic material of small rodents strains for organising new breedings (gratis)

animals for experiments (groups selected according to age, sex, weight, phases of the cycle)

equipped space for experiments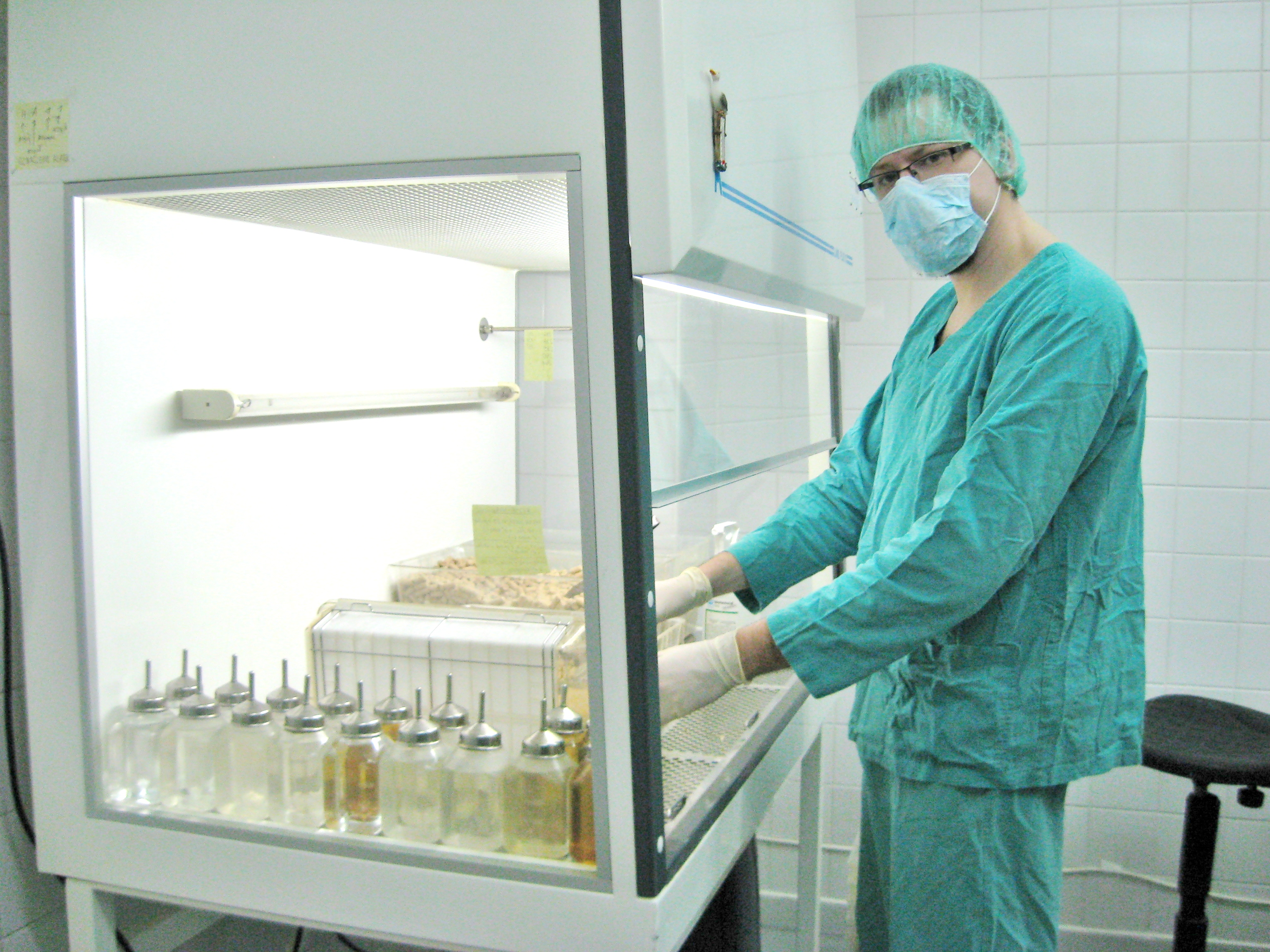 Our own breeding includes about 20 models of small rodents maintained in SPF conditions.
The first genetic materials were sourced from these renowned breeding centres of the world:
Rats: Harlan Limited Shaw's Farm, Blackthorn, Bicester - Great Britain ; Charles River - Germany;
Gerbils: Charles River - Germany; Centre D'Elevange R. Janvier Animaux de Laboratorie- France
Mice: Charles River - Germany; Iffa Credo- Paris Centre de Recherche et d'Elevage des Oncins; Fox Chase Cancer Center, Philadelphia, U.S.A; Cleveland Clinic Fundation, Ohio, USA; Massachusetts Institute of Technology Building, Cambridge, Massachusetts, USA; Boston Massachusett Brigham and Women Hospital; Jackson Laboratory, USA; Taconic, USA.
Small Rodents Section (SPF):
Strains bred:
Rats: AUG, BN, LEW, WAG, Tac:N:(SD)-Tg N(SOD1g93A)L26A (ALS model)

Mice: BALB/c, FVB, C57BL/6J, DBA/2J, SWR/J, 129P3/J, FOX CHASE C.B.-17 scid, TgN(TIMP1-lacZ)CD1, Tg(G  q44)FVB, KO(CcnD1) C57BL/6, KO(CcnD2)C57BL/6, KO[NOS-3] C57BL6 /J, KO(GLT1)C57BL, KO(ApoE;LDL)C57BL( model miażdżycy ), Tg(B-ACT-GFP)C57BL/6J, FVB-Tg(APP LD2/B6)-model of Alzheimer Disease, C57BL/6 Tg(Thy1,APP), FVB-Tg(Thy1;PS1), FVB-Tg(Thy1;APP,PS1),B6;C3H-TgPrP-hSNCA)A53TVle/J- model of Parkinson Disease, B6C3H-Tg(PrP-RW tau)R406W, F1(BALB/c x C57BL)
Stocks bred:
Gerbils: CRW (MON); F-Rj (line sensitive to ischemia)

Rats: Wist Cmd:(WI)WU,Tac:SD
Large Animals Section:

Deep frozen fetuses of the "pt" rabbits (mutant)
Health Control: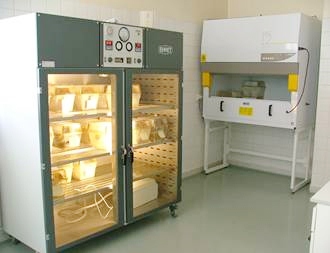 Our animals are periodically controlled pathologically, parasitologically, bacteriologically and virusologically for the presence of the following microorganisms:
bakteria: Mycoplasma sp., Salmonella sp., Yersinia pseudotuberculosis, Bordetella bronchiseptica, Corynobacterium murium Kutscheri, Proteus sp., Pseudomonas aeruginosa, Klebsiella pneumoniae, Klebsiella oxytoca, Citrobacter sp., Streptococcus pneumoniae, Staphylococcus aureus.
viruses: Ectromelia virus, Mouse hepatitis virus (MHV), Sendai (HVJ) virus, Pneumonia virus of mice (PVM), Lymphocitic choriomreningitis (LCM) virus, Minutevirus of mice (MVM), KRV/H-1 virus, Sialodacryoadenitis virus (SDA)
parasites: Giardia muris, Spironucleus muris, Syphacia sp., Eimeria sp., Ectoparasites.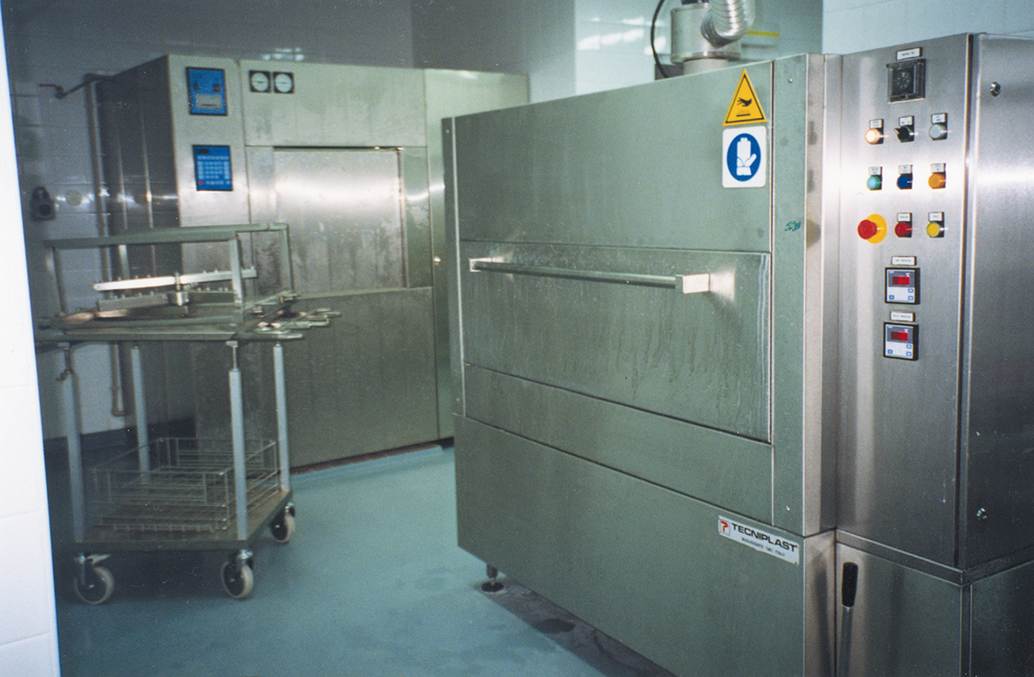 For bacteriological analyses API system and PPL-18 are used. For viral infection and mycoplasma, diagnostic kits ELISA are applied. Bacteriological and viral control are done in cooperation with the Institute of Oncology and pathological controls with the Department of Veterinary Medicine of the Agriculture Academy, in Warsaw.
Our cats are vaccinated against: panleucopenia (FPV), herpesvirus (FRV), calicivirus (FCV), chlamydia psittaci. Dogs are vaccinated against canine distemper, rabies, parvovirus, leptospirosis, parainfluensis and hepatitis.
Genetic Control:

Inbred strains are controlled by skin transplant and scid mice are checked for CD3 antigen (blood samples; FACS). The geneticaly modified animals are controlled genetically by PCR for the presence or lack of gene of interest.