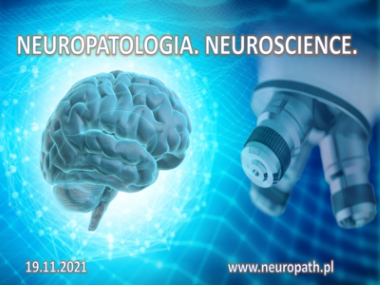 Szanowni Państwo,
serdecznie zapraszamy na coroczną konferencję Stowarzyszenia Neuropatologów Polskich,
która odbędzie się w formie webinaru 19 listopada 2021
pt. Neuropatologia. Neuroscience. 2021.
www.neuropath.pl
Konferencja jest objęta patronatem Instytutu Medycyny Doświadczalnej i Klinicznej im. Mirosława Mossakowskiego Polskiej Akademii Nauk.
Spotkanie będzie miało charakter interdyscyplinarny i będą na nim prezentowane najnowsze osiągnięcia naukowe/ badawcze i kliniczne z zakresu tematycznego interesującego dla szerokiego grona naukowców, lekarzy praktyków i studentów.
Wśród wykładów m.in.:
Rola mikrośrodowiska glejaków w progresji nowotworu i jego modulacja zwiększająca skuteczność terapii

Nowa klasyfikacja WHO guzów OUN

Zmiany neuropatologiczne w przebiegu SARS-CoV-2

Nowe biochemiczne i neuropatologiczne markery urazów głowy w badaniach pośmiertnych

Metody wspomagania regeneracji nerwów obwodowych
Planowane są też krótkie wystąpienia ustne oraz plakatowe – mogą być przygotowane w języku polskim lub angielskim.
Termin nadsyłania streszczeń: 15 września 2021 r. poprzez formularz na stronie konferencji: www.neuropath.pl/#formularz
Streszczenia przedstawianych prac będą opublikowane w czasopiśmie Folia Neuropathologica.
W imieniu Komitetu Organizacyjnego i Naukowego:
prof. Ewa Iżycka-Świeszewska
prof. Teresa Wierzba-Bobrowicz
prof. Wiesława Grajkowska
dr hab.Dorota Sulejczak, prof.
Dear Sir / Madam,
It is our pleasure to invite you to the annual conference of the Association of Polish Neuropathologists, which will be held in the form of a webinar entitled: 'Neuropathology. Neuroscience 2021' on the 19th November 2021.
www.neuropath.pl
The conference will be held under the patronage of the Mossakowski Medical Research Institute of the Polish Academy of Sciences.
This interdisciplinary meeting will present the latest scientific / research and clinical achievements of interest to a wide range of scientists, practitioners and students.
The presentations will include:
The role of the glioblastoma microenvironment in tumor progression and its modulation increasing the effectiveness of therapy

New WHO classification of CNS tumors

Neuropathological changes in the course of SARS-CoV-2

New biochemical and neuropathological markers of head injuries in post-mortem examinations

Methods of supporting nerve regeneration
Short oral and poster presentations are also planned. Presentations in Polish and English are welcomed.
The abstracts should be submitted by September 15th, 2021 via the form on the conference website by clicking here: www.neuropath.pl/#formularz
Abstracts will be published in the Folia Neuropathologica journal.
On behalf of the Organizing and Scientific Committee:
Prof. Ewa Iżycka-Świeszewska
Prof. Teresa Wierzba-Bobrowicz
Prof. Wiesława Grajkowska
Assoc. Prof. Dorota Sulejczak, PhD